I went ahead to purchased the PoD GURPS Dungeon Fantasy Planner from Amazon for the express reason of writing a review. I've been fairly negative of SJG in the past few years with the lack of GURPS support (compared to previous years of releases) so I figured I'd put my money where my mouth is and purchase both the pdf and a physical copy of the book. I was going to show photographs of my filled out book but as my adventure with my group has been delayed I didn't want to show spoilers or wait another few weeks to publish this post. So I wont' be including those. I may update the post once they have gone through the adventure.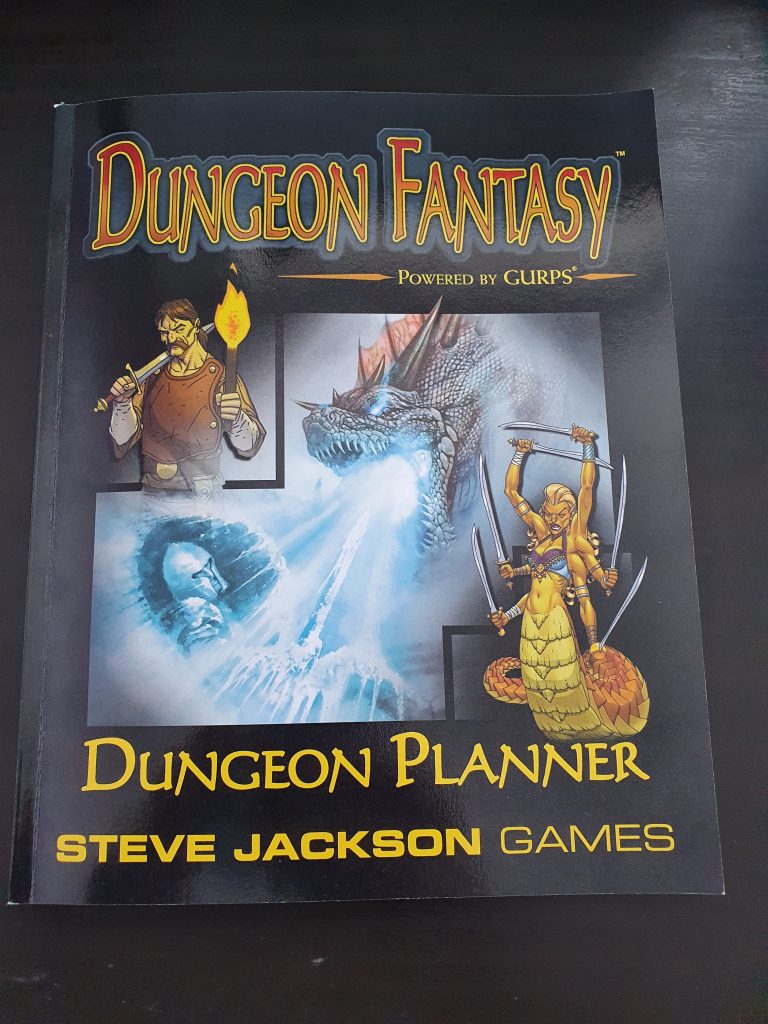 Physical review
As I have stated in a few previous posts the Amazon PoD (Print on Demand) is much better than it was with the release of the first DFRPG (Dungeon Fantasy Role Playing Game) Companion 1. I'm almost tempted to purchase another Companion 1 to see if there is a difference in quality. For the purpose of the physical makeup of the book I would like the reader to know that I have had some professional training in traditional bookbinding for a few years (although all my courses have been put on hold due to the pandemic). To start out with my PoD was printed in Great Britain. It may vary in North America or where ever you are able to get your PoD from.
There is a crease that is 7mm from the spine. You should gently fold the cover over from the crease before opening the spine. Do this for the front and back cover. Then carefully open the book and turn the pages not from the spine but from the crease in the cover. This will ensure a longer life to your perfect bound book as it will put less stress on the adhesive spine.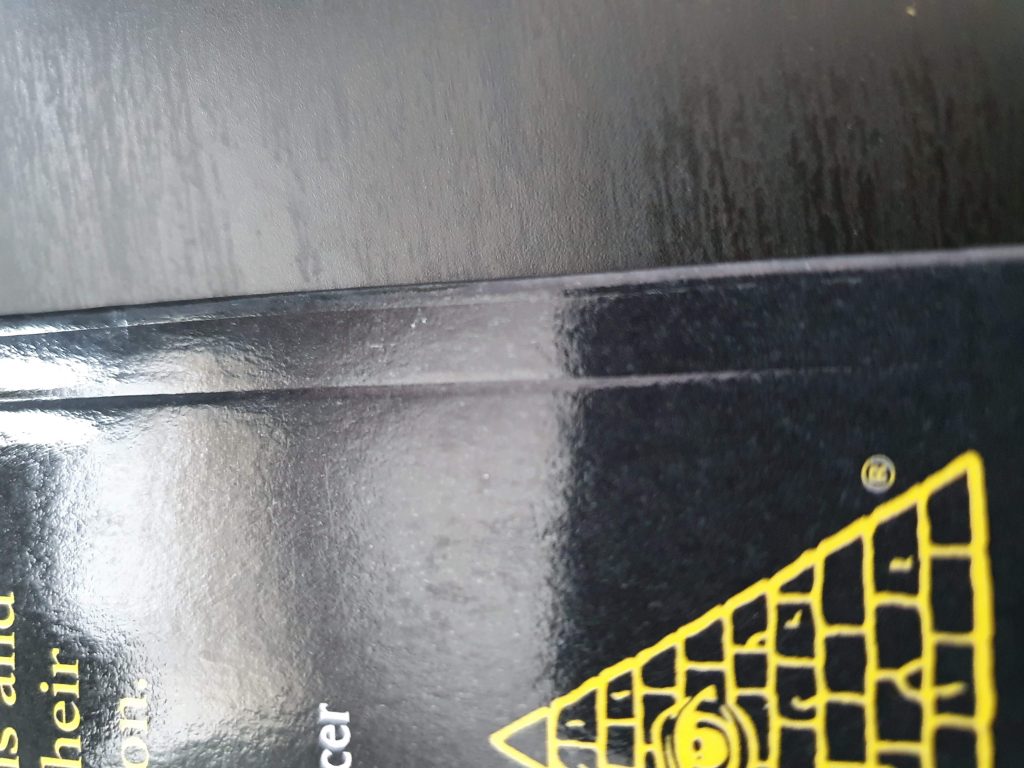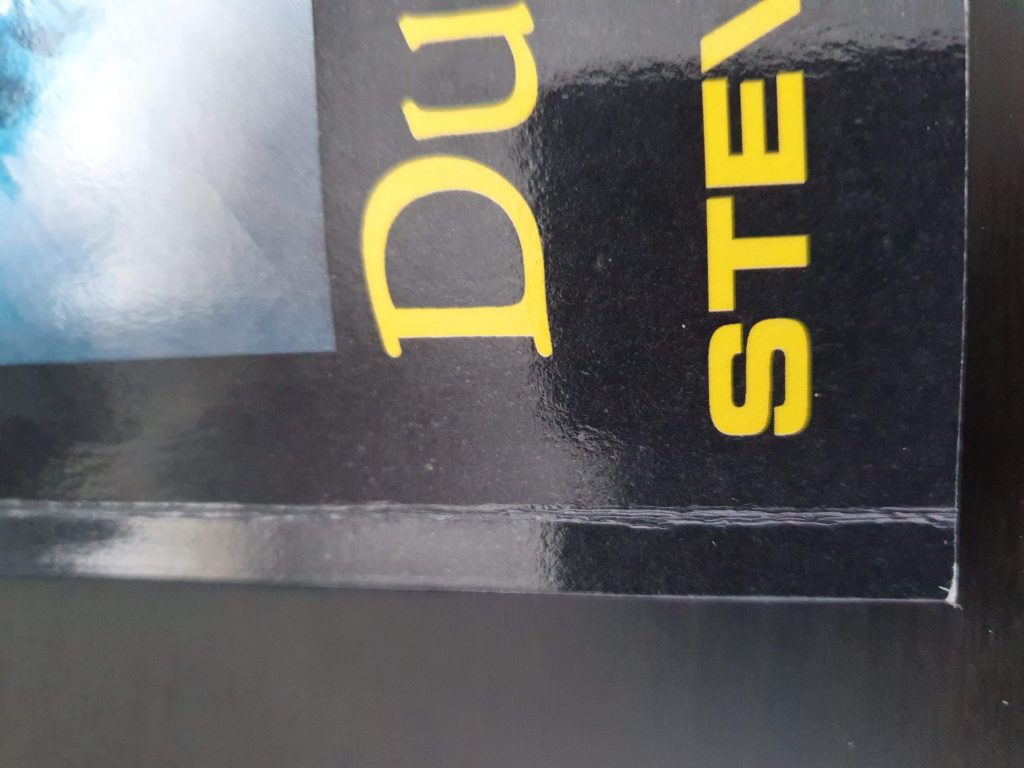 What is a perfect bound book? A book binding in which a layer of adhesive holds the pages and cover together. I detest the term Perfect Bound as it is far from perfect. However perfect bound books do have a place on the market as they are cheap and fast to produce. The quality can range from horrible, as in it might last a couple of months. Or a proper hot melt adhesive that can take a bit of abuse.

The book is sized so it will fit inside your Dungeon Fantasy RPG box or on the shelf with your other DFRPG books including the Nordland Sagas. I personally appreciate the consistency. The cover is cardstock (soft cover) with a full colour cover that is consistent with GURPS 4e cover design. Again something that I appreciate. I might have a touch of OCD but then don't we all in some way! You all have to have the light switches facing the same direction in your house don't you?
The paper is approximately 90 gsm and takes both Graphite Pencil, Coloured Pencil, and ballpoint ben (bic) very well. Markers, artist pens, and such do tend to bleed through a bit.
Overall Design and Layout
The interior of the book is black and white with a few grey-scale pictures recycled from previous DFRPG books. This pictures are used to fill some blank areas and chosen well. Newly commissioned art would have driven the price of the book up. It consists of 48 pages of printed material and two blank sheets at the end which can be used anyway you would like. Now as for the Black and White. Take a look at the original Room Map page and what I propose be a change.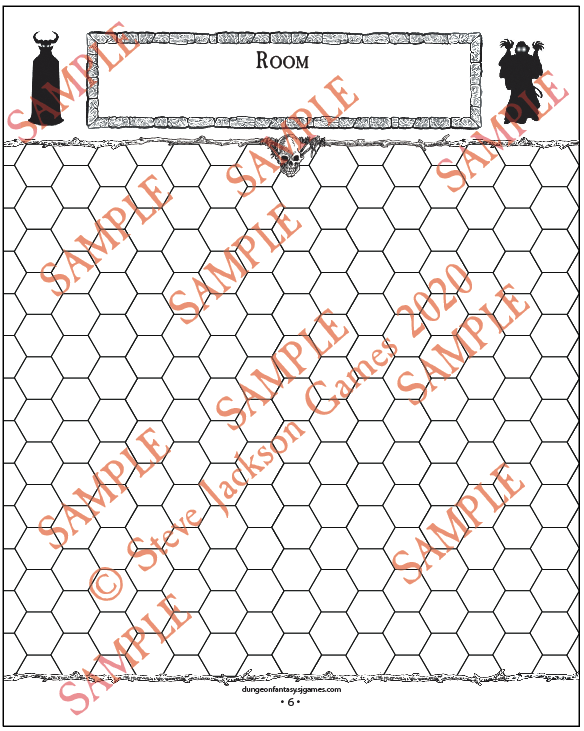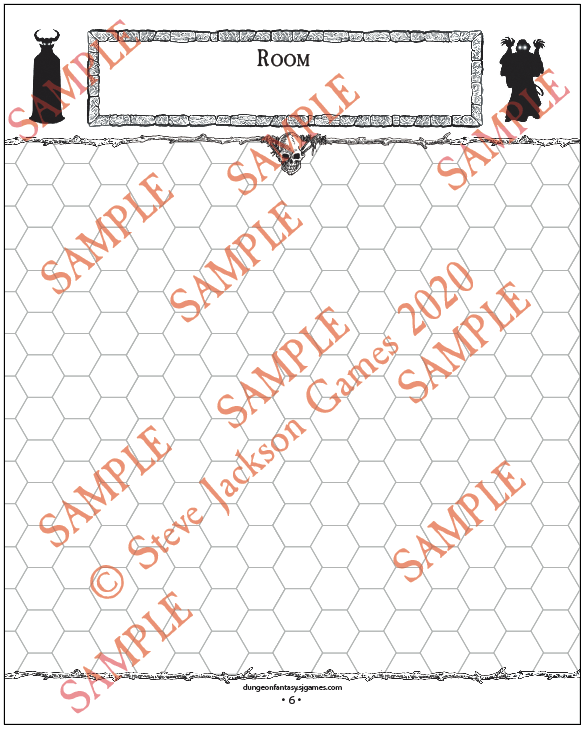 All the dark black writing lines and grids makes it difficult to see and read properly (at least for myself) unless you're using a blue ballpoint pen. It is a minor issue but since they were able to print in grayscale for the images I would assume they could print grey for some of the lines as well. I do not know if this would have increased the book price as my experience is in binding books traditionally not printing books.
Adventure Overview
On page 2 and 3 is the overall Dungeon map followed by a Planning Form. The form is consistent with all SJG (Steve Jackson Games) forms whether spells and traps, or world building. Again I like the consistency in design. Book name and page numbers are given to help aid you in filling out the information. This is very good for new players and old. I myself am back from a hiatus of playing GURPS and I found this useful not only in reminding me where to find the information but also helping me write down little details I might have forgotten when writing my adventure digitally in Microsoft OneNote as I usually do.
Rooms & History of the Adventure
Page 4 is like a table of content for the 16 rooms that you can fit in this planner. Something I might not have thought of if I'm honest with myself. While the opposite page 5 is an overall history of the dungeon/adventure. Space is given for the Creator, original purpose, Current over (nice), and Important NPC's. At the bottom of this page is an image from the SJG Cardboard Heroes Dragons. It is nice to have imagery to break up the monotony of text but I feel this space could have been better used with more lines for text. Just my personal preference.
Room/Encounter Description Page
Don't expect enough room for three page descriptions. This is a single page with 1/3 given to Appearance/Description and the rest for details such as Encounter type, features, obstacles, etc. I wouldn't call it sparse. I would call it efficient and just enough. Especially as they place the page numbers in Exploits to look up the rules. These two pages go from pages 6 & 7 until 36 & 37.
Supporting information and cast of characters
Pages 38-40 are Wandering Monsters and Random tables. Very useful!
Pages 41-43 are monster sheets. Either copy over monsters from Monsters 1 and Monsters 2 or create your own original monsters.
Pages 44 & 45 are dedicated to Trap forms
46+ is for notes.
PDF Version
There have been many complaints that the pdf version is not form fillable. Personally I understand the frustration. However at $2.95 USD I think expecting a fillable form on the pdf is a bit much to ask. You can get free pdf software which will allow you to edit and make the DF Planner a form filled pdf yourself. The advantages to just the pdf over print is you can add extra pages yourself for a larger adventure then just 16 Rooms/Encounters.
Overall thoughts
I originally purchased the planner solely for writing a review on it and to support my favorite game system. However it actually showed something to myself in the process of using it. First off that I've become too reliant on word processors and apps to run and plan my games. Secondly I really enjoyed hand drawing my maps and writing down my details. Less so writing down my details but that is because my handwriting has gotten rubbish over the last 20 years. Thirdly I now have something tangible that I helped create that won't suffer internet connection problems or hard drive crashes.And fourthly I actually retained more of the information that I physically wrote down more than I do typing.
So is the physical planner worth the £7.31 PoD price tag? Yes and No is the only answer I can give you. Yes in that I personally enjoyed physically working on it. No in that a 48 room adventure would cost you £21.93 to write in. It is a fine balance. I do not for an instant regret purchasing the PoD. However given my skill level I can manipulate the pdf to add extra pages, renumber the pages, change it to a form fillable if needed, change the lines and grid to light grey, print it on short grained A3 paper, paginate it myself in to proper sections, sew and bind it into a hard cover book. And that might make a great multiple blog post project!
Hopefully once my party finishes this adventure I can share interior photos of my book. So I hope my review has been helpful!