As mentioned in a previous post (read it here) I've been playing a weekly game of Dungeon Fantasy RPG powered by GURPS using Roll20 to get together as we are dealing with the lockdown here in the UK. It has been an amazing experience mostly because I've not actually played GURPS as a player in so many years. It is also nice to have new players and seeing the widely different play styles. Alex, who plays Grobar the Holy Warrior, is a fountain of knowledge and experience on GURPS. I don't play regularly enough these days and I can certainly say I've forgotten more than I knew about the rules over the last fifthteen years. Alex has been a real boon to the party as he makes tactical and rule options for our characters, but in a helpful way not in a rules lawyer kind of way. Ricardo's character Saskar doesn't hit as hard as Grobar or Zelenka but his DX is higher and is able to get those rapid strikes "TO THE FACE" (as he shouts) with moderate accuracy. He is also our source of comedy and keeps us laughing with his rapid fire memes on the discord channel. Filipe was playing Roland the mage but commitments has taken him out of the game for what we hope is only a short time. All brought together through Gus, our GM, whos descriptions of our scene draws life to the game. I haven't had this much fun in years!
Paragons of the Six Divines
Gus told me to design my own religion for the game so I came up with the "Paragons of the Six Divines". It is a holy order of six immortals who where said to once be mortals themselves, found immortality and through cultivation and their own pure deeds ascended to godhood. As such they don't appeal to the common man who need gods of agriculture, the forge, war, and other aspects of the mortal realms. The Paragons of the Six Divines are a symbol of what man can achieve through selfless acts of kindness, sacrifice, honor, and truthfulness. What many find unattainable or unwilling to endure. Their order is best known for their charitable institutions; hospitals, schools, and orphanages. These can be found throughout the lands and open to anyone, something that has caused friction with some local customs or laws. However most kingdoms have not only grown accustomed to their services but heavily rely on them which affords the order some grace. Most monks, nuns, and clerics of the Six were residents of the orphanages and grew up within the faith.
Paragons of the Six Divines
Honor – To do what is morally right. Represented by the God Conlaoch
Courage – strength in the face of pain or grief. Represented by the Goddess Parthenia
Magnanimity – generosity. Represented by the goddess Rione
Patience – acceptance of problems and suffering. Represented by the God Vivasat
Justice – just behaviour or treatment. Represented by the God Bran
Truthfulness– the fact of being realistic or true to life; realism. Represented by the Goddess Erosi
Paragons of the Six Divines are extremely popular with orders chivalry. Those that can become living representations of the six can ascend to Sainthood and become Demi-Gods. They are highly respected but few have what it takes to follow their strict regime. Because of this the God Vivasat is the most popular out of the six although each deity has an equal standing in the pantheon. Anyone is welcome to worship although they are more popular with Humans, Elves, some Dwarves, and a few Gnomes.
Setting the scene
This is where I bore everyone about the back story and adventures of my character. We started out at 150 points rather than the standard 250 points. This is about four sessions worth of info so I certainly understand the TLDR people.
Zelenka Dagian (meaning Fresh Dawn) is a Half-Ogre who's human mother died giving birth to an ugly half-breed. She died at one of the charity hospitals of Paragons of the Six Divines. Zelenka's childhood was not without strife, despite being members of the Six the monks were very cruel to Zelenka and many of the other children were encouraged to leave him alone and if they were mean to him the monks would look the other way. They would also "punish his inherent wickedness" at the smallest infraction of the rules. Many would expect such a child to grow up as wickedly as he was treated, and that might have been the case if it wasn't for the Abbot Svoboda of the monastery and Kateřina Dvořák the Cleric of the county. They taught Zelenka to read the true meaning of the scriptures, how the care for others through sacrifice, being patient and accepting, how truth starts within oneself and in doing so brings honor and justice to the world.
The bishop himself, Casimir Sedlák, was well pleased with Zelenka's progress, "Although a bit dim he would make a proud member of our Holy Order" The bishop fully intended for Zelenka to be added to the ranks of Holy Warriors. At sixteen Zelenka was already six foot and a naturally built warrior. Instead of a cleric's staff he was taught the polearm by sergeant Borek Mazal, now retired but famed for his Poleaxe squad "Deliverance of Mercy" or just "Mercy" for short. At the battle of Passhead Valley Sgt. Mazal commanded 20 pikeman and held off a hoard of 70 goblins long enough for the village to be evacuated. In reality it was thirty but the story keeps growing.
Zelenka had no interest in causing harm to others if he could avoid it and wanted nothing more than to stay in the cloister on a sunny day with a book or scroll, or to work in the hospital tending the sick and wounded. The Bishop persisted that his place was with the warriors and so his training in arms and armour continued. When Zelenka finished his studies at the age of twenty it became apparent to everyone, including the Bishop, that Zelenka had an aptitude for not only healing but a strong connection with the Paragons of the Six Divines (I increased his Power Investiture) compared to the other deacons. Although gentle, honest, and true to his studies Zelenka didn't have the mental capabilities as the other deacons (IQ 11 instead of 14-15) but was nonetheless ordained a Cleric of the Six.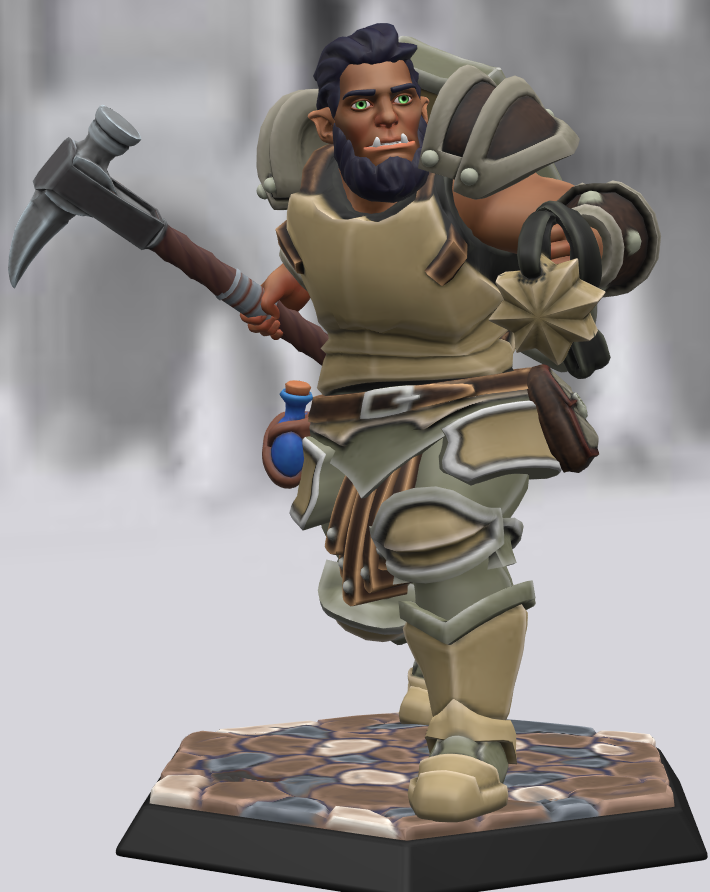 Upon receiving his new status he was given a gift from his mentors. A fine silver plated, dwarven made Bec de corbin (thus reducing the penalty of not being able to parry after an attack), and a suit of leather armor.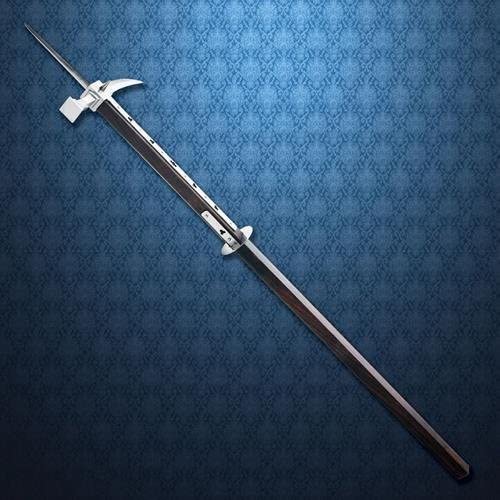 Two months after being ordained Zelenka received a dream message about a monk of the Six who always kept himself in a deep cowl and never showed his face. Zelenka was tasked with finding his resting place and bringing the monks remains back to the monastery. After spending weeks in study he finally found enough clues that Zelenka was positive of the monks locations. He appealed to his superiors to get him funding to retrieve the remains but he was denied. Zelenka wrote to the Bishop himself but was dismissed as "An overactive imagination induced by the stress passing the seminary and now lack of direction and focus." Zelenka was then tasked with hospital duty for the next several weeks to focus on those with real needs.
After one long day of healing Zelenka returned to his straw pallet, exhausted and fatigued. Rolling on his side and about to blow out his candle he spies a letter on the floor. In his exhaustion he did not see it upon entering his room. Curiosity got his groaning body out of bed and opened the letter. It was from an unnamed benefactor who was not only going to fund his expedition but was able to get him a signed letter from the Bishop allowing him to proceed with his quest! " goddess Rione be praised"
Long story short he met Rowan the Mage and Saskar the Knight (Horseman from the North) and hired them to accompany him on the week long journey into wild country. Once a price was agreed upon Zelenka purchased the needed supplies and a pack donkey to carry it all. The trip out was uneventful, but did give the three newbie heroes time to get to know each other. Their weariness of a six foot, eight inch tall Half-Ogre soon gave way to his honest and kind nature.

They reached the area and scouted it out. The visions led Zelenka to believe they needed to go into the mines but it was getting late and they decided to scout out the ruined town nearby first and make camp. That night they were ambushed by the Undead, two of us being prone and Saskar on watch. Long story short we got our buttocks handed to us with everyone taking damage and Rowan being knocked unconscious. I failed to heal anyone in the party but myself, so as a Cleric I realise the fault was not with me, not with the dice, but obviously my companions were not pure at heart so my Gods refused to heal them. Yeah, that's the ticket!
We rested for a day do to our injuries and fortified our little encampment as best we could. Once we are healed up with take to the mines. We agreed to take donkey with us as we didn't want to leave him to be victim to the undead in the ruined town. Heading into the mine we notice that there are rooms, crypts, a chapel all carved out as well. Showing that this was once a very thriving mining town! I ask that we go to the Chapel first and I see a altar to the Paragons of the Six Divines with two suits of plate armor on either side of it. When we step in the suits come alive and take an attack stance then start to move toward us!
Zelenka shows no fear, for these are certainly constructs to protect against the unfaithful! Taking his holy symbol he fearlessly (yes I made my roll) walks to the animated armor and recites his prayers. The suits at that point stop all hostilities and collapse in a heap. One of the suits chest plate and lower legs will just fit Zelenka, but the arms, shoulders and upper legs are too small. Zelenka takes one of the shields from the holy armor and straps it to his back. He feels he should learn the shield sometime in the future (or if I can get my ST to 18 I can use the Bec de corbin with one hand!). Zelenka spends some time at the altar praying before heading to the crypts.
We head into the crypts and disturb some kind of creature that is unknown to any of us. Zelenka casts Sense Evil while Saskar and Rowan prepare for battle. The creature is truly evil and severely damages Saskar! Zelenka uses Turning to keep the monster at bay while Rowan and Saskar dispatch it!
Down it's putrid hole in the ground filled with rubbish and rot Zelenka uncovers a Vellum Scroll in an older dialect. There is some kind of prophecy written on it. When Zelenka reads some of it an ArchAngel appears before Zelenka (and Zelenka only, maybe he is dilusional? Nah.) and tells him of the prophecy and charges Zelenka with a holy mission! During his trance like state the head of Donkey comes flying into the room. and we are beset on by a Minotaur and a Giant!
We chose our tactics better than our first battle with the Skeletons and dispatched the pair although we took considerable damage. Saskar, who took a liking to donkey, kills the Giant in a revenge fueled rage.
We didn't get enough time to lick our wounds as the commotion brings in a stranger to investigate the noise. Enter Grobar the Holy Warrior on a quest to put the undead where they belong! Back in the ground. What better way of doing that than his very effective Combat Shovel (DF Adventures page 102)! After some time to size each other up we decide its in our best interests to align ourselves and clear out this undead and monster infestation. It doesn't take long either before we are set upon by more skeletons!
Pushing forward through the skeletons we are ambushed by evil dwarves with crossbows. They really beat the crap out of us. However we were able to rally ourselves at the last minute, Rowan gets knocked unconscious again, Grobar scrambles up the cliff face to take out the Dwarven crossbowmen and Zelenka grabs Saskar and throws him like a sack of rice up over the cliff face. The pair of them easily dispatch the crossbowman (crossbowdwarves?) and the evil cleric dwarf gets away by escaping down a deep pit.
Mind you I'm writing this weeks after all the events of several gaming sessions and I can't seem to find many posts with battle pics for the next part. However we find the tomb of the Hooded Monk and the sanctity of his tomb is AMAZING for my cleric! We get attacked by Drow and Drider but with Zelenka able to regain his fatigue almost instantly they were not as serious of a threat as I think they would have been away from the are of high sanctity! Thank goodness for Contingency Casting (DFA20) as well!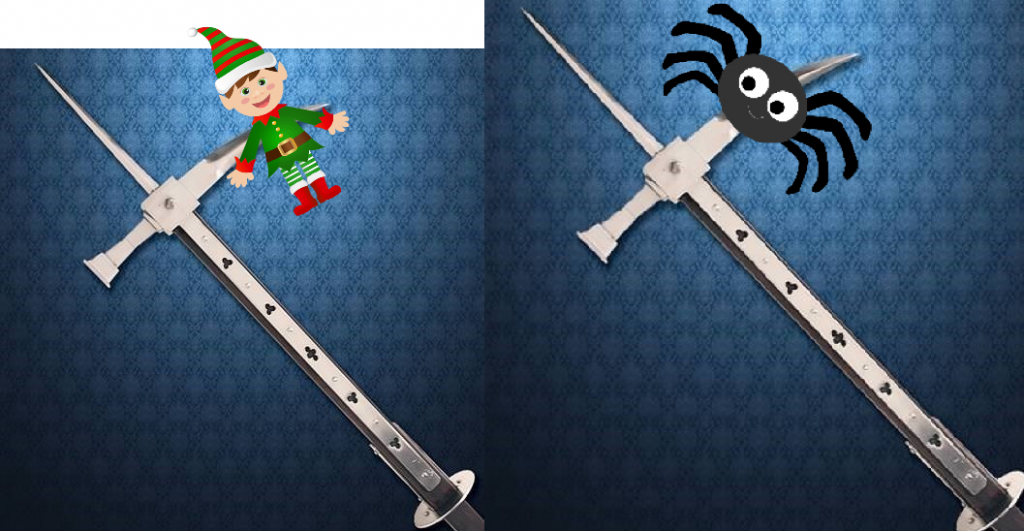 Our next threat is an Earth Elemental and Zelenka freezes in combat! It is up to the rest of the group to dispatch the rocky creature! Its at this point that Rowan leaves the group as Filipe has real world obligations to attend to. We hope to see him back soon!
Gus starts experimenting with dynamic lighting and it certainly adds a new element to the game! Because of my nightvision 3 I can see farther than the other players and it was very immersive having them ask, "What do your elf eyes see Legolas?" Well more damn Skeletons that is for sure.
During this battle our rolls were spot on, some of us still took damage but Zelenka was able to dispatch three of them! Not single handedly of course. Saskar and Grobar soften them up. Sometimes going last isn't a bad thing! "One of the skeletons drop an unholy mace. We left it where it laid, mostly because when Saskar tried to lift it he could not budge it. Not nasty enough to lift the unholy mjolnir!
We're so tactical we weaponized tardiness

Ricardo
Our next victim, um I mean opponent is a Bleeder. We were honestly extremely lucky with the dice! It didn't inflict any damage to us otherwise we might have been in some trouble! Also there was only one and not a Bleeder horde!
Our last session and final creature was a Bone Golem! That thing messed us up for sure! Zelenka failed his fright check, and his Willpower rolls and was out of action for four full rounds! During that time Grobar and Saskar inflicted considerable damage on the beast but both ended up getting stabbed and injected with venom. Grobar was knocked out and Saskar could barely stand. Finally the sight of his dying companions snapped Zelenka out of his shock and he used Contingency "Awaken" Both make their HT rolls and are up and ready for more! With that we dispatched the Golem and collapse into a weary heap to rest and heal.
Zelenka was late again to the battle but to quote Ricardo again
We're so tactical we weaponized tardiness

Ricardo