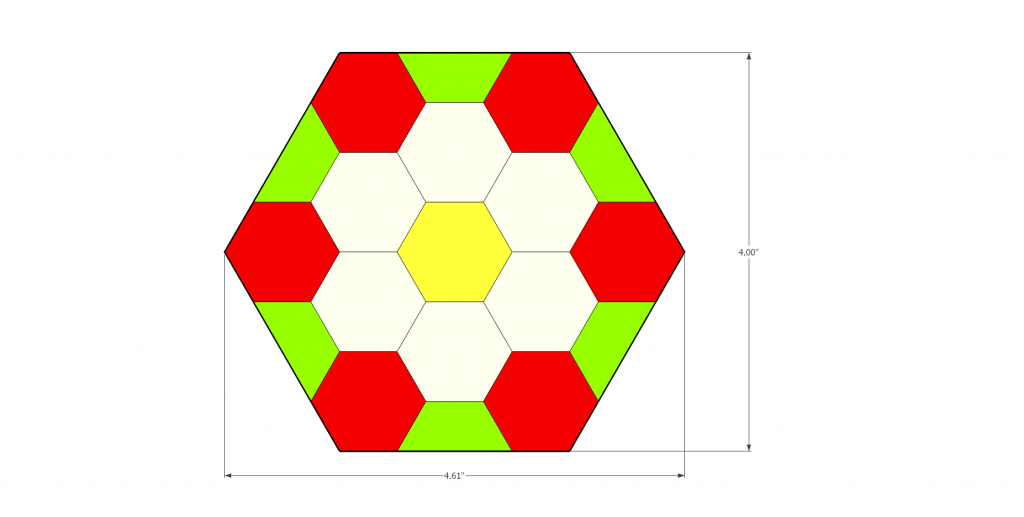 Last time I discussed, in my own disorganised way, my thoughts on 7″ hex tiles.  Now I'm going to delve into the 4″ hex tile.  As I've stated a few times before the thought first came to me when I saw the Tabletop Hex Terrain Toolkit on Kickstarter. This is going to be a great tool for making some wonderful terrain for both RPG's and Wargames.  However the scale is just slightly off for my tastes (as discussed here).  I may eventually redesign the tool for use with proper one inch horizontal hexes, until then I am making four inch tiles to use for my GURPS Dungeon Fantasy games.
The 4″ Tiles can only support single and double width corridors (1 hex = 3′) compared to the three widths in the 7″ tiles.  Also the number of connections is reduced dramatically to the four examples in the following image, compared to the 9 images for 7″ tiles.
Although there are fewer options I don't think the four inch tiles are inferior to the seven inch.  The four inch tiles will certainly allow for more dense dungeons, and with a bit of thought and planning will be able to offer some very complex designs. Also you can make any Hex Dungeon look just like any Square dungeon.  All it takes is manipulating the width of the horizontal corridors. If the corridors are the same width they will not match up when a horizontal corridor attaches to a vertical corridor.  The horizontal corridor will be too wide.
I can live with this slight alteration as it now gives me more options when designing.  I can now have corridors that turn at 90° just like you would with a square tiled dungeon.
What I like from the example above is how at any given time the orientation of the dungeon can turn 60° giving the dungeon a more natural feel.  If you're digging a dungeon why would you limit yourself to a grid? Also once you add the double width corridors your increasing your options and complexity.  I'll be adding more as I have time.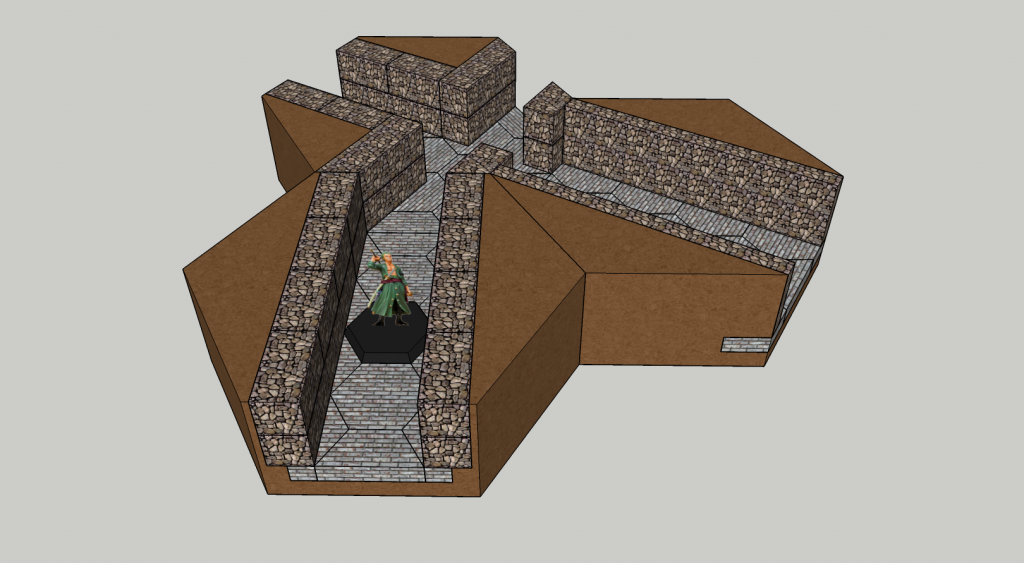 I've got plans to make full 3D dungeons using the 4 inch tiles and plaster molds such as those you can get from Hirst Arts, Linka World, and 4bot Industries. The issue is I will have to make a lot of custom pieces and custom molds so I'm going to be shelving this project for the mean time.
I think switching from the 7″ to the 4″ tiles was the right choice for me. When I get time I will go ahead and place the 30+ 7″ colour tiles I've already made if anyone is interested in trying them out.  I'll do the same for the 4″ but not until I get a large amount ready.
Pro
You can make dense dungeons without so many extra tiles
Easier to store
Can produce more random results
Easier to use "Fog of War" effect
Con
Only single and double wide corridors, no triple
No irregular/offset corridors
Floor textures may not align properly
Custom 3D parts