So I'm currently using a ASUS Transformer Prime, 18 hour battery when it's docked with its keyboard.  It is an Android operating system which is okay but I think I would have preferred Windows 8 so I could use more of my RPG programs.  However if you have an Android I recommend using the GURPS Calculator It really is a nice app to have.  Also I recommend OneNote or Evernote as well to help you organize your information.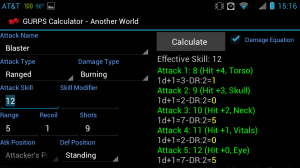 Gurps Calculator
Microsoft One Note.
Currently I have over 150 monsters in my OneNote with interlinks within the notebooks.  I also have Magic Items and traps as well.  I'm trying to get everything together for this weekends game including new skill and technique cards, currently in B&W as I'm tired of wasting coloured ink every time I update.  I will make them available as fillable forms for everyone soon.
If anyone has any suggestions on software or time saving steps please leave a comment!