I'm currently doing more craft related stuff for DFRPG/DF than I am actually playing. The troubles with living in a University City is the transient population and most of my players have moved away. My new job only gives me 1 full weekend off a month, 1 Saturday, and 1 Sunday. So at best I could get in two games a month which would be great. However I'd have to find a group that will commit to those days. I'd also would rather play in person rather than via a host client like Roll20 or Fantasy Grounds.

I'm contemplating if I should purchase commercially designed dungeons for 3D printing, free dungeons from Thingiverse, or have a crack at designing my own. The last option would take years to accomplish. There are plenty of beautiful Gloomhaven tiles out there but they are 1.5″ and not 1″ hexes and that is a deal breaker with me. I have considered printing the Hex Geomorph dungeons in 15mm scale but you lose a lot of detail and at that point I should just stick with the magnetic tiles.

Some options I'm looking at is Game Decor which has some very nice and affordable designs for sale. They also have a few different styles so you can theme your dungeons. "DungeonWorks uses the InfinityLock system for superior customization, connection, and efficiency. DragonLock and OpenLock are compatible with the InfinityLock system via free adapter clips."
Fat Dragon Games has moved away from paper terrain into 3D printed terrain. FDG uses the "DragonLock" to keep the tiles together. Nice models and support from the owner.
Printable Scenery has a huge set of terrain and it all uses the Open Lock system. I don't know if Open Lock is compatible with DragonLock
Rocket Pig Games has some interesting dungeons but it uses a completely non compatible style of connecting the tiles which makes it unattractive. They are also more expensive than the previous three.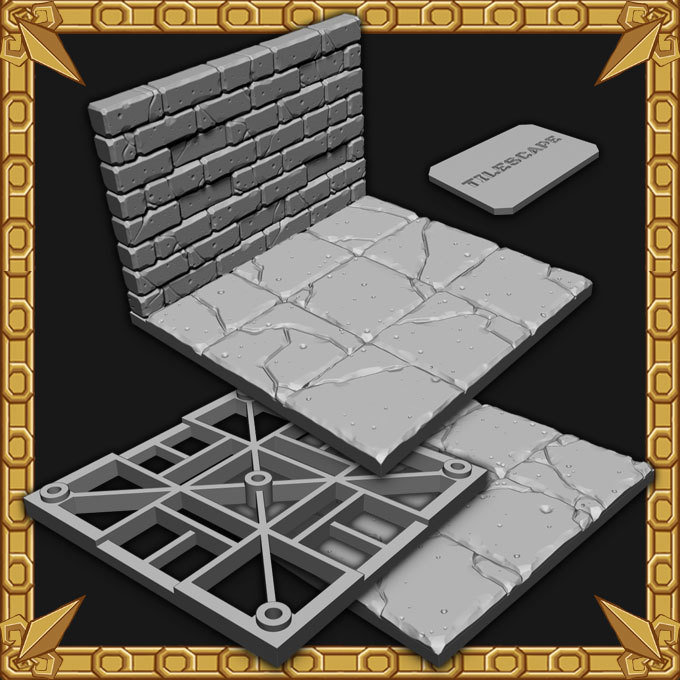 Open Forge is compatible with Dragon Bite, Open Lock, and Infinity Lock. It is also Free on Thingiverse! I just wish he would clean up his prints for the photographs.
So I've come to the conclusion that if it isn't "Lock" compatible then it isn't worth the effort no matter how affordable, or how amazing it looks. I will also have to resign myself to square tiles and use the GURPS Range Ruler during play. However I will not stop the Hex Dungeons and maybe someday I will learn how to 3D model enough to design my own HexCrawl 3D models. I also wonder about the wall height and how that works together.